A journey of hope, positivity & happiness from negativity, stress & struggles.
The mission of HappyPlus Consulting is to add happiness to the world through different interventions across stakeholders
TEDxGateway | The Missing Link In Workplace Happiness | Dr. Ashish Ambasta 
Dr. Ashish Ambasta (Founder and CEO, Happy Plus Consulting) in conversation with Abhishek Singh (Journalist and Strategic Consultant-Start-ups)
Delighted to collaborate with Dr. Tal Ben-Shahar & bring him to India. He is like a role model and an authority in the area of happiness. His course on Happiness at Harvard was the most sought after course in college history.
Why focus on Employee Happiness?
Stress & Negativity, a 'Silent Killer'!
Stress along with negativity can be one of the most daunting obstacles for people. Unfortunately, the spread of Covid-19 pandemic significantly increased the stress level in individuals.
Organisations demand an employee to be creative, flexible, multi-tasker and agile. Statistics, however, prove that continuous pressure has an adverse effect that leads to low productivity, poor work quality.
We at Happy+ are making a conscious effort to develop a happy work culture for organisations to counter such issues.

Workers every day suffer from some sort of work-related stress and call in sick.

Working hours have been lost due to work-related stress, depression or anxiety (as per 2017/18 Labour Force Survey)

Every year goes down the drain because of low productivity. As per WHO, it's the result of work-related anxiety and depression.

Is the average time a person spends working in his lifetime.
Your companion in the Happiness Journey
Happy+ will add happiness to your life by helping you perform Happiness Inducing Activities (HIAs) created by our panel of experts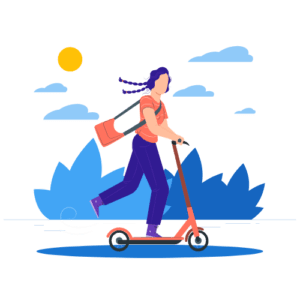 We help to bring ACTION into focus for organizations

A team of positive psychologists keep researching on ways to bring happiness to your life.

Happiness Habit formation scientific tracks

We empower employees to take charge of their Happiness.
We empower organisations to accelerate people potential and business growth through data driven decisions and actions.
Work plays a very important role in our life. An average person spends 90,000 hours at work in their lifetime. Working from home because of the pandemic has caused mental stress to many of us. How do we find happiness in such a situation? Why should employee happiness be a priority for organisations?
Happy+ has a solution! We are technology enabled happiness habit formation organisation. The only company that measures the Happiness index of Corporates in India and provides tools, techniques and solutions that are AI/ML enabled to bring happiness at work places. So, what are you waiting for? Break your old unhappy habits and build happy patterns bit by bit.
Over 100 AI-guided self-care exercises
A lot is said about transformations and success, but we don't hear anything about the process that came before it or the habits that led to those results. At Happy+ we work towards creating journeys which are:
Well researched.
Easy to implement.
Daily activities.
Self-exercises will bring visible change in your happiness levels.
These tracks are simple to adopt and easier to continue.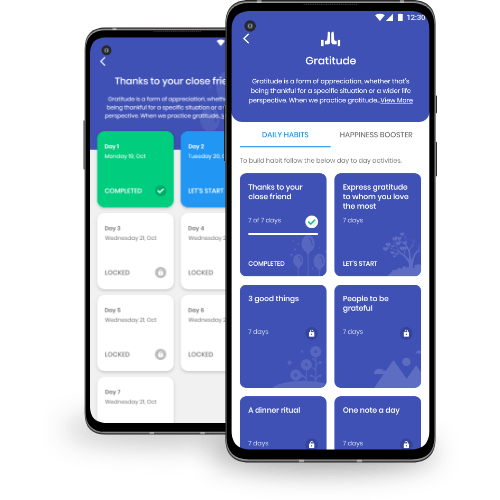 Available Anytime, Anywhere in a Fun-Filled & Engaging Way
Do you remember the last time you sat down to learn something new or improve your skills at work? Though the idea of self-development is exciting, the process is usually a bit dull and sometimes it becomes difficult to motivate yourself.
Fun has a positive effect on motivation levels, determining what we learn and how much of it we retain.
Our programmes are designed to hold your attention, make learning fun, exciting and help you track your progress at a click of a button.
Happy+ will add happiness to your life by helping you perform Happiness Inducing Activities (HIAs) created by our panel of experts
At Happy+ our aim is to quantify your happiness at every stage of the journey and allow you to take control of it. Using artificial intelligence and ML algorithms, Happy+ suggests modified tracks and activities to deliver the results you expect.
Our Happiness Dashboard tells you your areas of strength and provides you opportunities to continuously work on aspects which are important for you.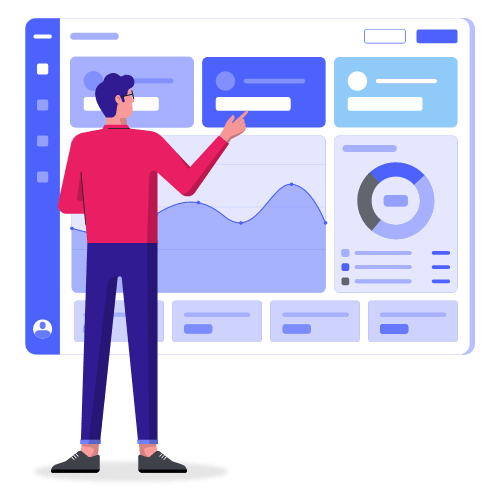 some of our Happy Clients